You've Read the Book. Now Download Free Public Scaling Up Growth Tools and Samples
November 11, 2020 Author: Gary Ralston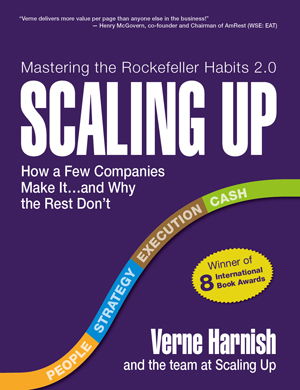 Simple, Practical, Actionable.
Scaling Up Growth Tools are designed to get to the point and get results, helping you and your team scale up your organization like never before.
Based on Scaling Up, by Verne Harnish
Scaling Up: How a Few Companies Make It...and Why the Rest Don't [ read | listen ], is your definitive manual for learning and applying these tools to scale up your venture.

Which set of one-page tools is right for you?
11 Growth Tools for Business - Private Sector, Self-Guided.
If you are the do-it-yourself type, here are 11 core tools to download and use in your business. Each tool is featured and explained in the book. We also teach how to use these tools effectively in our Scaling Up Public Workshops (check for our next course).
11 Growth Tools for Social Sector - Social Sector, Self-Guided.
Your Social Sector venture is not simply a Private Sector outfit with a different tax return. These tools are tuned to the specific needs of Social Sector organizations, using language that resonates with your board, staff, volunteers and stakeholders. Ask about our Scaling Up Social Sector Workshops…
50+ Growth Tools for RCI Clients - Facilitated and Turbocharged.
As one of our Business or Social Sector clients, you access over 50 (and growing!) powerful one-page tools to help your organization begin, advance and master Scaling Up! Call us to discuss if this route is right for your venture.
Sample One-Page Strategic Plans (OPSP)
At the core of the Scaling Up Growth Framework is the One-Page Strategic Plan. Here are a few examples to get your gears turning...
---
Running a business is ultimately about freedom. Scaling Up shows owners and leaders how to get their organizations moving in sync to create something significant while enjoying the climb to success!

- Ann and Gary Ralston