Develop a Continuous Scan for Disruptive Tech Trends
January 1, 2022 Author: Gary Ralston
Our top sources for staying abreast of exponential and disruptive technology trends
Updated 2022-03-21: We follow these sources every day - high-quality can't-miss information feeds. They are written in plain language and discuss social and business implications of the technologies and discoveries.


The Exponential View
TOP SOURCE!
Curated by London-based researcher, Azeem Azhar. Exponential change: technology, business models, political economy & society.
Recommended by ExO colleague, Kaila Colbin: "One of my absolute favorites, a weekly curated collection of links, with a brief phrase or sentence as to why each one is interesting. I never miss an issue, and it usually generates a couple hours at least per week of worthwhile content."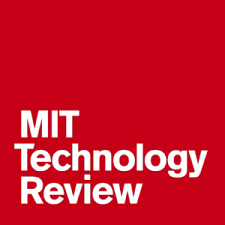 TOP SOURCE!
10 Breakthrough Technologies list - 2022

Subscribe to "The Download" and other brilliant newsletters:
The Download - Your daily dose of what's up in emerging technology

Weekend Reads - Stories from our archives that put technology in perspective

From the site:
"Every day, we provide an intelligent, lucid, and authoritative filter for the overwhelming flood of information about technology. We do this with serious journalism, written in clear, simple language by a knowledgeable editorial staff, governed by a policy of accuracy and independence.

We do this in features, news analysis, business reports, photo essays, reviews, and interactive digital experiences that invite our readers to probe deeper, examine data, and get to know experts and their opinions to see, explore, and understand new technologies and their impact."
We agree. If you only subscribe to one source, this is it.


TOP SOURCE!
Top Business Intelligence served with outrageous attitude!
From the Site: Our team comes to work every day to build technology that helps corporations guess less and win more. We aggregate and analyze massive amounts of data and use machine learning, algorithms, and data visualization to help corporations replace the three Gs (Google searches, gut instinct and guys with MBAs*) so they can answer massive strategic questions using probability, not punditry.
Reader Quotes:
"I really enjoy how digestible this newsletter is. It takes an overwhelming amount of research and serves it palatably. Plus, it is super fascinating stuff. So thanks! I have learned a lot since subscribing."

"I can truly say that being close to CB Insights has made me a better thinker and consequently a better professional. It has also exposed me to verticals that I don't usually cover, and helped me tremendously as I was exploring opportunities in operating capacities in such verticals..."
Recommended by ExO Colleague, Pedro Pinho: "Great business intelligence, in my opinion. Comprehensive maps of startups per industry available for free which give you an index of companies to explore further."

Technology Blog & Abundance Insider Blog
Exponential Wisdom Podcast (with Dan Sullivan)
Futureloop (AI engine curates news feed...)
Dr. Peter H. Diamandis is an international pioneer in the fields of innovation, incentive competitions and commercial space. He is sometimes a controversial figure as he and his team push the frontiers forward.


WIRED Newsletter - WIRED.com
We read it every day for early insight into the social impact of technology...

WIRED is where tomorrow is realized. It is the essential source of information and ideas that make sense of a world in constant transformation. The WIRED conversation illuminates how technology is changing every aspect of our lives—from culture to business, science to design. The breakthroughs and innovations that we uncover lead to new ways of thinking, new connections, and new industries.
Newsletters:

WIRED Daily - Our biggest stories, delivered to your inbox every day.

Coronavirus Update - Stay safe, stay smart. Get the latest news, advice, and context on Covid-19 from WIRED Science.

Deals - Catch the best deals on the best products, picked by our editors.

Longreads - Investigations and features from Backchannel, our longreads hub. In your inbox every Sunday.

Fast Forward - Keep up with the future of how we work, move, and live.

Games - Level up your game with tips, reviews, and investigations from the WIRED Games team.

Gadget Lab - Gear news, advice, and recommendations on laptops, headphones, household gadgets, and more.

WIRED Weekly - A personalized digest of the best of WIRED, sent to you every Thursday.

Tech in Two - Catch up on tech's most important stories, in two minutes or less. Delivered every weekday.

Podcasts: News from Tomorrow - Catch every episode of our flagship longform podcast, Get WIRED. Plus, hear new episodes of Gadget Lab and Geek's Guide to the Galaxy every week.

2034: A History of the Next World War - Sign up to automatically receive every installment of this series, in your inbox each week.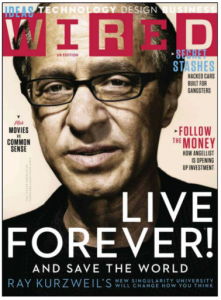 One extremely smart and accomplished inventor and futurist.
Bio: Ray Kurzweil has been described as "the restless genius" by The Wall Street Journal, and "the ultimate thinking machine" by Forbes. Inc. magazine ranked him #8 among entrepreneurs in the United States, calling him the "rightful heir to Thomas Edison," and PBS selected Ray as one of 16 "revolutionaries who made America," along with other inventors of the past two centuries. He is considered one of the world's leading inventors, thinkers, and futurists, with a 30-year track record of accurate predictions.
Principal inventor of the first CCD flatbed scanner, the first omni-font optical character recognition, the first print-to-speech reading machine for the blind, the first text-to-speech synthesizer, the first music synthesizer capable of recreating the grand piano and other orchestral instruments, and the first commercially marketed large-vocabulary speech recognition.


20 honorary doctorates, and honors from three U.S. presidents.


7 books, 5 national bestsellers. The Age of Spiritual Machines was the #1 best-selling book on Amazon in science. The Singularity Is Near was a New York Times bestseller, and has been the #1 book on Amazon in both science and philosophy. His latest New York Times bestseller is How to Create a Mind: The Secret of Human Thought Revealed.


In 2012, Ray Kurzweil was appointed a Director of Engineering at Google, heading up a team developing machine intelligence and natural language understanding.

I asked my colleagues what they were following, and discovered a range of other sources.
Singularity Hub - TOP SOURCE! Published by Singularity University, Singularity Hub chronicles technological progress by highlighting the breakthroughs, players, and issues shaping the future as well as supporting a global community of smart, passionate, action-oriented people who want to change the world. Recommended by Evonne Heyning
Tech.EU - a European-focus tech newsletter, covering some of the more obscure emerging markets outside the major EU tech centers. Recommended by Pedro Pinho
The Millennium Project - Founded in 1996 after a three-year feasibility study with the United Nations University, Smithsonian Institution, Futures Group International, and the American Council for the UNU. It is now an independent non-profit global participatory futures research think tank of futurists, scholars, business planners, and policy makers who work for international organizations, governments, corporations, NGOs, and universities. Recommended by Evonne Heyning, Paul Epping

Future of Life Institute - With an advisory board that includes Stephen Hawking, Elon Musk, Morgan Freeman, Alan Alda, the co-founder of Skype and others, it is worth a visit for certain. "We are currently focusing on keeping artificial intelligence beneficial and we are also exploring ways of reducing risks from nuclear weapons and biotechnology." Recommended by Paul Epping

The Economist Technology Quarterly - deeper analysis in plain language. Recommended by Nicole-Anne Boyer

Sites requiring a bit of sifting for the good stuff
As recommender, Eduardo Labarca points out: "Please consider that today there are a lot of "science" websites that distort news only to get more readers. We should filter and evaluate." Great reminder! Futurism.com is one such site that we do NOT recommend.

Medium - Every day, thousands of people turn to Medium to publish their ideas and perspectives. Leaders. Artists. Thinkers. And ordinary citizens who have a story to tell. Posts range from scrutinies of world affairs to deeply personal essays. Medium sifts the best of these for you and delivers them directly onto your home page. Recommended by Tony Manley, who comments: Although the articles on Medium can be varied, the good ones tend to bubble up to the top pretty quickly. They often provide useful insights from people working with the technologies. Obviously, you need some idea of what you are looking for in order to get the best out of it.
Quartz - Quartz is a digitally native news outlet, born in 2012, for business people in the new global economy. Our coverage of this new global economy is rooted in a set of defining obsessions: core topics and knotty questions of seismic importance to business professionals. These are the issues that energize our newsroom, and we invite you to obsess about them along with us. Recommended by Evonne Heyning.
Questex - This media company holds the rights to a series of newsletter brands, events and conferences, that does a good job of reporting on developments and press releases in Hospitality, Travel, Healthcare, Wellness, Life Science and Technology. Of particular interest are the Fierce series of newsletters covering Telecom, Biotech, Sensors, IoT, Electronics, MedTech, CRO, Life Sciences and more. Recommended by Justin McMath.
Thank you to all our contributors!

Biomimicry / Biomimetics
See our blog post: Biomimicry - How Nature is Inspiring Radical Innovation
---

Innovation by itself turns out not to be the trump card we expected;

more important is the ability to scale innovation, to blend creativity with discipline.

- Jim Collins, author, Great by Choice: Uncertainty, Chaos, and Luck - Why Some Thrive Despite Them All

---
What are your go-to sources for your 'future-scan'?
Contact us and we will add to the list...